COVID-19 and CopyrightDepot.com
Because CopyrightDepot.com wants you to be healthy and safe from this virus that is causing havoc around the world, we want to do our part by offering you one copyright credit for every 2 credits you purchase.
Until May 31, 2020, as soon as you buy 2 credits, we will, within 24 business hours of your purchase, add an additional credit to your account.
This is our way of being there for you. Be safe and take care of you.
The CopyrightDepot.com team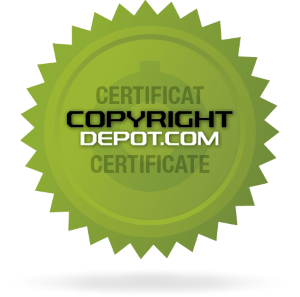 Copyright number

00066923-1
Business > Business correspondence
JUDI KAYE THOMAS ESTATE dba JUDI KAYE THOMAS is hereby liened, registered, copyrighted. JUDI KAYE THOMAS- IVY beneficial owner to JUDI KAYE THOMAS dba JUDI KAYE THOMAS. Details in archives.