COVID-19 and CopyrightDepot.com
Because CopyrightDepot.com wants you to be healthy and safe from this virus that is causing havoc around the world, we want to do our part by offering you one copyright credit for every 2 credits you purchase.
Until May 31, 2020, as soon as you buy 2 credits, we will, within 24 business hours of your purchase, add an additional credit to your account.
This is our way of being there for you. Be safe and take care of you.
The CopyrightDepot.com team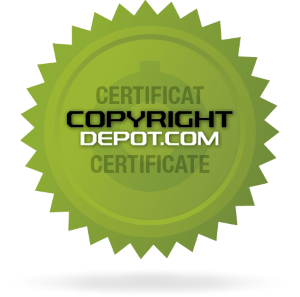 Copyright number

00067903-1
Allodial property Rita Steele El Date July 22,1977
Owner:Rita Steele El copyright act of 1970 No corporate/commercial Entity or Statutory Government agency has the authority to use write speak or reference the name Rita Steele El or any derivatives of said Title El Steele Rita;Rita Steele El etc.