BLACK FRIDAY PROMOTION
Copyright Depot would like to thank its loyal customers and new customers by offering a gift of one copyright with the purchase of two!
The year 2020 will have been trying, we want to put some sunshine in your life. From today until November 30, 2020, as soon as you purchase 2 credits, we will, within 24 hours of your purchase, add an additional credit to your account.

The CopyrightDepot.com team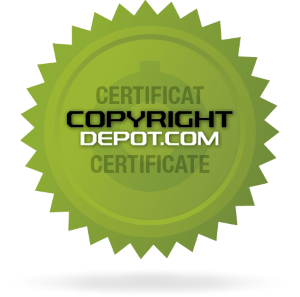 Copyright number

00068767-1
Other > Confidential creation
NAAZIR AALIM MUHAMMAD JACKSON
Be it notice to the public that the trade name/ trademark "NAAZIR AALIM MUHAMMAD JACKSON", and all of its variations are private trust property and shall not be used or reproduced, without the expression permission and consent via written agreement signed in blue ink by Ameru Keita El.