PROMOTION
Copyright Depot would like to thank its loyal customers and new customers by offering a gift of one copyright with the purchase of two!
The year 2020 will have been trying, we want to put some sunshine in your life. From today through January 31, 2021, as soon as you purchase 2 credits, we will, within 48 hours of your purchase, add an additional credit to your account.

The CopyrightDepot.com team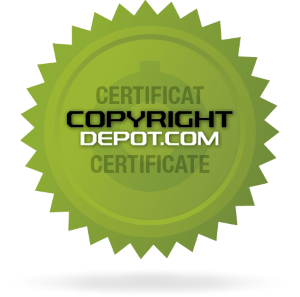 Copyright number

00070010-1
Le succès: Vous êtes le responsable de votre réussite
C'est un roman réaliste, engagé et révolutionnaire, écrit avec modestie et d'une manière plus ou moins différente de celle des romans classiques pour dialoguer et pousser les jeunes comme moi et tant d'autres personnes à respecter la vie et surtout l'avenir de ce beau monde.