PROMOTION
Copyright Depot would like to thank its loyal customers and new customers by offering a gift of one copyright with the purchase of two!
The year 2020 will have been trying, we want to put some sunshine in your life. From today through January 31, 2021, as soon as you purchase 2 credits, we will, within 48 hours of your purchase, add an additional credit to your account.

The CopyrightDepot.com team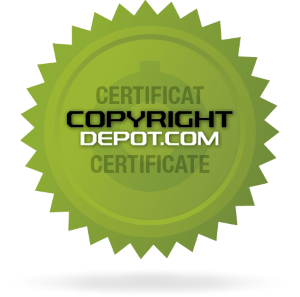 Copyright number

00070503-1
La Francesita de Villa Pañil
Sylvie, quinquagénaire française, vit seule dans un chalet au bord d'un lac argentin. Elle est écrivaine. L'arrivée d'une jeune journaliste, désireuse de narrer la vie d'une expatriée qui s'avère être la mère d'un de ses amis, va amener l'héroïne de ce roman d'amour à quitter sa retraite.