PROMOTION
Copyright Depot would like to thank its loyal customers and new customers by offering a gift of one copyright with the purchase of two!
The year 2020 will have been trying, we want to put some sunshine in your life. From today through January 31, 2021, as soon as you purchase 2 credits, we will, within 48 hours of your purchase, add an additional credit to your account.

The CopyrightDepot.com team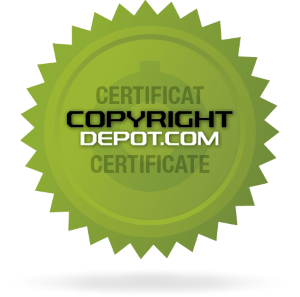 Copyright number

00070805-1
Serge Léon HENRARD-HERMES du MAYBRIAC; Carole Stéphanie Jeanne LE BAGOUSSE (SOLER); Julie Corinne TRUYEN; Julien Laurent TRUYEN; Corinne Thérèse Bernadette TRUYEN (TIERNO);
Dépôt international de la marque "Royaume de France"
Dépôt de la marque "ROYAUME DE FRANCE", du sigle "RF", de la marque "Cénacle" pour une renaissance royale et autres dépôts de marque avec aussi un contrat pour les droits d'usage géré par les déposants, le Cercle Culturel Royal (CCR) et l'Organisation Mondiale de la Gastronomie (OMG).