PROMOTION
Copyright Depot would like to thank its loyal customers and new customers by offering a gift of one copyright with the purchase of two!
The year 2020 will have been trying, we want to put some sunshine in your life. From today through January 31, 2021, as soon as you purchase 2 credits, we will, within 48 hours of your purchase, add an additional credit to your account.

The CopyrightDepot.com team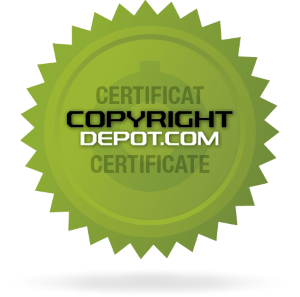 Copyright number

00070974-1
Les étoiles ne mentent pas
1976. Zira et Léo ont un magnifique projet: Traverser le Sahara en 404. Une suite d'événements fâcheux retarde sans cesse le jour tant attendu du départ. Zira s'impatiente. Elle part avec Alex, le dealer du lycée. Léo anéanti, part à leur poursuite, direction l'Afrique. Le doute s'installe en lui...