PROMOTION
Copyright Depot would like to thank its loyal customers and new customers by offering a gift of one copyright with the purchase of two!
The year 2020 will have been trying, we want to put some sunshine in your life. From today through January 31, 2021, as soon as you purchase 2 credits, we will, within 48 hours of your purchase, add an additional credit to your account.

The CopyrightDepot.com team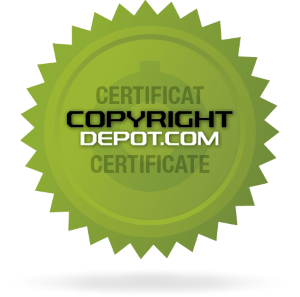 Copyright number

00071134-1
Sonya Denise Mack, NOBLE MACK EL, Shareefa Amira El
All names and titles belonging to co authors are sole property of both authors and use of any or all derivatives without the authors mention is a violation and copyright infringement, which will result in penalties up to five hundred thousand dollars.